He is the winner of numerous prizes in international music competitions, for example the "Grand Prix" at the 4th International Chamber Music Competition in Paris. He also won prizes at the Carnegie Hall Concert Artist's Guild Competition in New York and in the International Brahms Chamber Music Competition in Hamburg. He was selected to play concerts in Germany for the "Förderprogramm" of the Bayerische Vereinsbank. In 1983 he was selected in the McKenzie-Ware Duo by the "Arts America" Program of the National Endowment for the Arts and with this program performed concerts, radio and television broadcasts and taught master classes in more than 30 countries, including the former East Block, Soviet Union, countries in Africa and the Middle East, Albania, Turkey and central Europe. He has performed regularly as a soloist/recitalist, with the Salzburger Soloists, the Ciompi, Laurentian and Faust String Quartets, the Saint-Clair Trio, the Trio Lusingando and the Bremen Clarinet Quartet to name a few. He is the editor of the Boehm-System version Jost Michaels´ "Systematic Method for Clarinet Finger Technique", published in 2001 by Zimmermann Musikverlag in Frankfurt and is the Artistic Director of the "Sunday Concert Series" in Osnabrück, Germany, where he lives.
In 2013 and 2014 he performed recitals and presented Master Classes in eight major cities of China and in Seoul, Korea.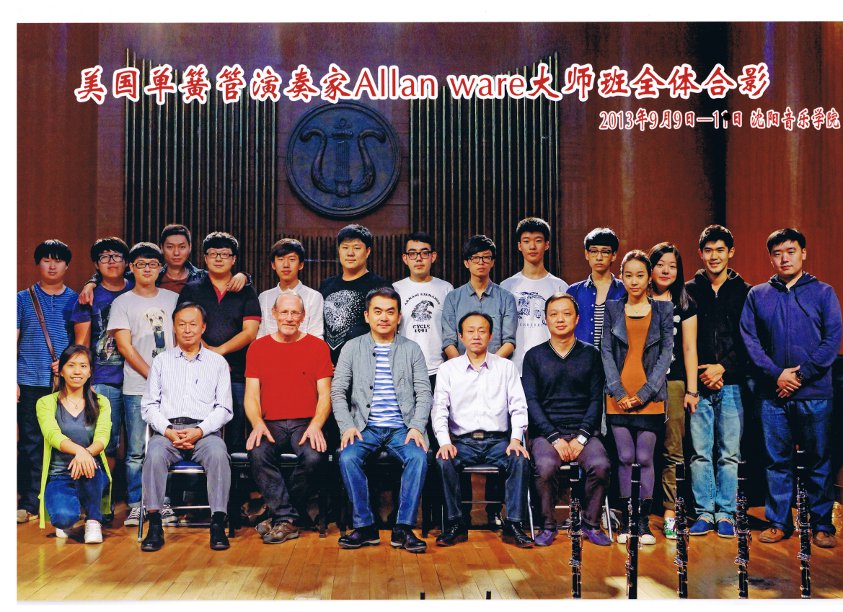 For high points of Allan´s musical career, click here

Allan Ware, clarinet was born in Raleigh, North Carolina and studied at Davidson College, the University of North Carolina, Peabody Conservatory of Music in Baltimore. In 1980 he was awarded a Fulbright Grant for two years to study clarinet with Prof. Jost Michaels in Detmold, Germany, during which time he began performing exclusively as a solist and chamber musician, and has performed hundreds of recitals and solo appearances on the stages of leading European chamber music series.